MARK RENO .. A TRIBUTE TO ELVIS !!!! AMERICA'S FINEST ELVIS PRESLEY TRIBUTE !!
ELVIS IS IN THE BUILDING!!! EXCITING NEW SHOWS AND VENUES FOR 2018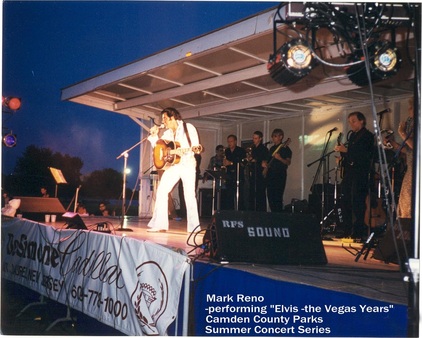 **Booking for 2018**
​
​Hello friends!!..... Thanks for visiting our site!
The Mark Reno Elvis Tribute Show is one of
the longest running and well known Elvis acts
around, and has been honored repeatedly for excellence... Come join us, as we bring the music, the moves, the look and the stylings of the GREATEST entertainer ever, to a stage near you!!
Mark Reno is truly one of the great showmen of his time, and audiences come back again and again for his "brand" of Tribute to Elvis Presley!!
For booking information, contact Mark Reno at:
856-267-5623 or email directly to:
markreno1@comcast.net
***Want an Aloha Hula Show, with Elvis?? call for details..!! Hula girls, Hawaiian theme..we have it!!***
.....We also specialize in Las Vegas style theme shows.... we can work with your budget!!
***BOOKING AGENTS AND PROMOTERS..... ***WATCH A 3 MINUTE VIDEO DEMO, with Live Band, on YouTube.. Click here:
http://youtu.be/9vy687uPTaY
**Watch Mark Reno sing "American Trilogy", Live with the EAS band....(VERY Patriotic version!!)
Click here:
www.youtube.com/watch?v=OBIRkXgu11s
---
...from the '68 Comeback Special....to Las Vegas!!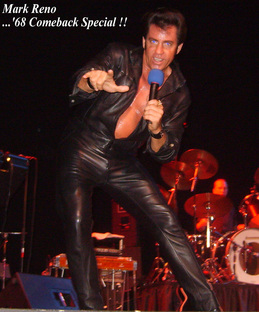 .... Beginning in 1995, Mark Reno has been performing his amazing
Tribute to Elvis Presley... This journey has taken him all over the USA and around the world..!! Mark has over a dozen costumes made by the same designers used by Elvis... no expense spared!!

Mark has a style all his own, while at the same time, he likes to make the audience feel like they really are at an Elvis concert... His look, sound, and performance has earned him rave reviews through the years, and his fans appreciate his dedication to his craft...
Come join us... Whether you are a huge Elvis fan, or just like music....
...."The best compliments I get are from folks who come to my show, who may not have been huge Elvis fans, but say they really love "my way" of entertaining,.... both men and women alike...!!" ....Mark Reno
.......Come be amazed by a true and genuine "ENTERTAINER".....!!!
---

Testimonials......... " A fantastic Tribute to Elvis..I've seen them all...Mark Reno has the voice, look, moves, and mannerisms down pat...and what an entertainer!!!"...... Kal Rudman, music publisher, known as the "man with the golden ears", and nationally recognized rock music critic....
.... "..he really has captured the Elvis sound..!!" ..... Scotty Moore, Elvis' first guitarist, 1954-1968, and member of the Rock and Roll Hall of Fame. (Mark performed with Ronnie McDowell and Scotty in 1996)
.... "Only the finest Elvis Tribute Artists are invited to sing at the Elvis Presley Memorial dinner, and Mark Reno amazed them all".... Marion Cocke, Nurse and friend of Elvis, and producer of the annual event in Memphis Tennessee...

| | | |
| --- | --- | --- |
| Mark with members of the Platters, sharing the bill in a 2003 show at the famous Hi Hat Club in Bayonne NJ... What a great time!! | | |
Upcoming Delaware Valley Public Performances...Booking NOW for 2018 !!!
If you are interested in having an event....
And you want a really good time....and great music...
We can provide it..!!
From a solo act show to a full band concert...
Whatever fits your budget...!!!
contact us at 856-267-5623
or email
markreno1@comcast.net
***** We have a new office address... we are no longer using the Cherry Hill Post Office Box !! ***
**new mailing office address**
132 E. Main St. Marlton NJ 08053
please make note of the new office address!!
"Dear Mr. Reno... I was at your Christmas show Dec 14 with my niece Taylor, who is a major fan of yours. You made her a very happy child that day when you asked her to help you with the 12 Crazy days of Christmas. My family has not seen her this happy in a while, since I lost my dad a year ago and Christmas was his favorite holiday. Since he passed, Taylor has not liked Christmas, but you made her love Christmas again. My family would like to thank you from the bottom of our hearts! ..... The Laskey Family
....This, folks, is why I continue to do what I do... :) ............ Mark Reno
.... Our shows succeed due to WORD OF MOUTH.... People LIKE YOU!!!,,,,, We are proud to have never advertised or needed to be supported by any radio program or media outlet. 24 years on our own...and our shows are still SOLD OUT! ....Thanks to each and every one of you!! 2019 will begin our 25th year performing our Elvis Tribute Show..!!
***** 2018 SHOWS *****

WE ARE BACK FROM ANOTHER WONDERFUL WINTER IN FLORIDA!!
​THE MARK RENO ELVIS TRIBUTE WILL BE PERFORMING NEXT WINTER IN THE SARASOTA FL AREA...!

JUNE 9 GLASSBORO NJ VILLAGE GRANDE AY CAMELOT 7PM 2 SETS OF ELVIS..!!

JUNE 23 MIDDLETOWN DE PRIVATE EVENT

JULY 14 MERCHANTVILLE NJ MERCHANTVILLE CLASSIC CAR SHOW 4PM SHOW, PERFORMING NEIL..CAR SHOW ALL DAY!!

JULY 15 NORRISTOWN PA ELMWOOD PARK BANDSHELL ELVIS TRIBUTE 2 SETS... FREE BRING A CHAIR..OUR 21ST YEAR!!

JULY 18 LAUREL SPRINGS NJ WHITMAN STAFFORD HOUSE 315 MAPLE AVE. BLUEBERRY FESTIVAL 7PM ELVIS AND OLDIES
BRING A CHAIR..BLUEBERRY DESERTS FOR SALE..YUMMY..COME SUPPORT THE CAUSE!!

JULY 28 PENNSAUKEN NJ PENNSAUKEN COUNTRY CLUB PRIVATE EVENT

SEPTEMBER 1 LORD VALLEY PA HEMLOCK FARMS SUMMER SERIES, POCONOS ELVIS CONCERT.. 90 MINUTE SHOW

SEPTEMBER 20 COLLINGSWOOD NJ COLLINGSWOOD ARMS ANNUAL PARTY. PRIVATE

NOVEMBER 10 W. ORANGE NJ PRIVATE EVENT

NOVEMBER 17 BUTLER NJ. KNIGHTS OF COLUMBUS, HAMBURG TURNPIKE... CALL MIKE 908-803-3961

NOVEMBER 18 TALL CEDARS NORRISTOWN PA 810 W. GERMANTOWN PIKE **SPECIAL BRUNCH SHOW 1PM. 484-366-6834

DECEMBER 1 HAZLETON PA HAZLETON ELKS LODGE OUR FAMOUS CHRISTMAS DINNER SHOW IN THE POCONOS...

DECEMBER 7 MAPLE SHADE NJ KNIGHTS OF COLUMBUS HALL..OUR FAMOUS CHRISTMAS SHOW RETURNS!!! DINNER SHOW,
DOOR PRIZES, RAFFLES, FUN AND GAMES.. GREAT CATERED EVENT. CALL SAMMY CERASI 856-667-1533 **TICKETS ARE $35 P.P.... AVAILABLE AUGUST 2018. TICKETS THROUGH SAM ONLY!!

​
---
.Teddy Bears... Mark Reno has asked fans to donate Teddy Bears to him for over 15 years, and he in turn donates them to organizations who deal with children who are the victims of traumatic incidents....
To date, that total is over 34,000 teddy bears donated..!!

...Marine Corp Toys for Tots.... Womens Shelters..... Shriners Hospitals....
...Camden NJ Rescue Mission....Police, Fire, EMT's... 9/11 victims in NYC..and more!
...here are Mark Reno, as Elvis in Concert Photos..!!!
| | | |
| --- | --- | --- |
| | Performing with Bill Turner and Blue Smoke, New Years Eve ... with Stage Manager Bobby Tete keeping a keen eye on things!! | |